Hurunui Netball Centre
The 2018 Season
The start of the 2018 season was delayed by a week due to the weather however Grading Day saw 13 senior and high school teams and 11 primary teams take the court.
The Senior section one comprises of defending champions Cheviot A, Culverden A, last years runner-up's, Cheviot B, Culverden Black, Culverden Red, Glenmark A, Hawarden A, and Hanmer A. Competition is underway with some exciting match ups in this section anticipated.
After the end of round one (16th June) regrading will occur with sections being split again in the senior and primary sections where necessary.
Our overall numbers are down slightly this year in some clubs as they struggle with the aftermath of the 2016 Earthquake, the increased access to other sporting codes, work commitments and the unfortunate price increases.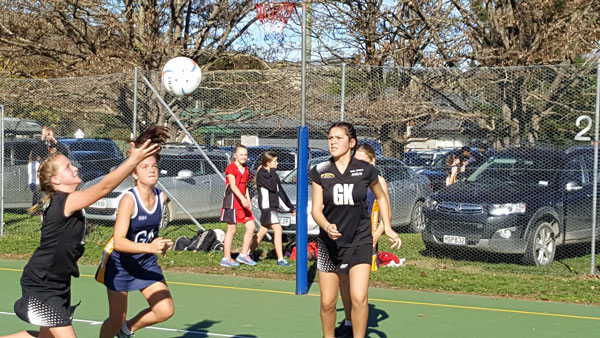 Waiau Primary A playing Glenmark Primary A in Waiau
Hurunui was fortunate to have Brooke Leaver and Erikana Pedersen come to Culverden as part of the Netball Mainland Holiday Programme on Tuesday 17th April. Thirty-five year 5-8 girls were put through their paces completing a variety of skills and drills on a beautiful sunny day. A big thank you to Brooke and Erikana for their time in giving back to the game.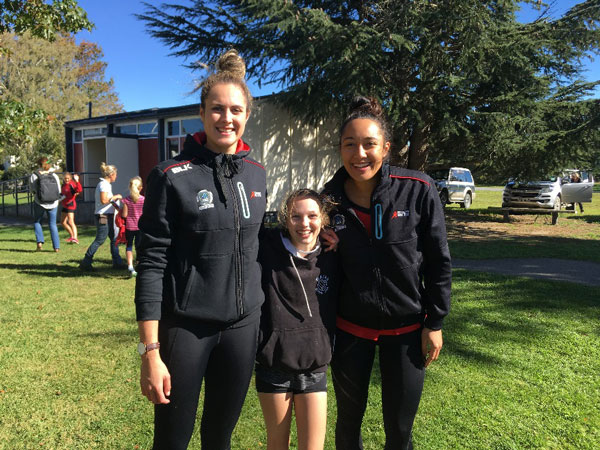 Brooke and Erikana with Olivia
Future Ferns
Our Mother Earth Future Ferns Year 3-6 junior programme got underway on the 12th May with 5 teams playing in both the year 3-4 and year 5-6 grades. It is fantastic to see our future players learning the skills needed to serve them for years to come. Thanks to Tamika Green for braving the elements and running the coaching courses in Hanmer for us. The girls have really enjoyed the season especially the tournament days.
Representative Honours
Hurunui is proud to support the following netballers in their representative honours outside our centre.
Hannah Ferguson represented the Te Wai Pounamu Under 15 team at the AMNOHL tournament in Gisborne at Easter.
Katelyn Ellis and Jasmine Cuff are members of the North Canterbury Under 17 squad competing in Christchurch at Queen's Birthday weekend. Both were selected to represent North Canterbury at the Under 17 National Tournament in July.
Tessa Allan, Paige McNabb, Katelyn Ellis, Jasmine Cuff, Zoey Cuff and Hannah Ferguson who have been selected to represent the Top of the South Island at the National Area Schools Tournament in July.
Hurunui also entered an Under 15 representative in the Netball Mainland Queen's Birthday tournament in Ashburton, where the girls did extremely well.
We wish all the girls the best for the representative season.