Hokitka Netball Centre
JUNIOR FUN DAY
Our centre started the netball season off with on 17th March with a Junior Fun Day and about 80 players were excited to have the Silvermoon Tactix players - Jess Moulds and Kate Beveridge assist with the sessions.
Each local club set up fun stations and activities including skills, drills, prizes, treats, even face painting, St Marys Sausage sizzle, South Westland baking stall, etc for the kids. A huge thank you to everyone who helped make it such an awesome day. The day finished with a Walking Netball demonstration game, pulling up parents and senior players including the Tactix.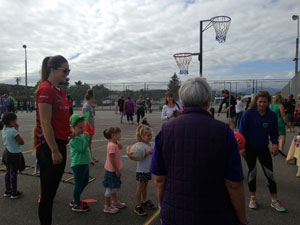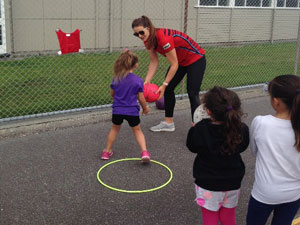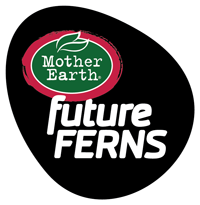 Big thank you to Tamika Green (Netball Mainland) who visited our centre on Sunday 6th May to assist new and current Mother Earth futureFERNS coaches with excellent workshops. The coaches were put through the various activities and enjoyed the on court participation, questions, feedback and excellent resource to help grow & improve the foundations skills for their players. 8 coaches attend for Y3-4 and 10 coaches attended for Y5-6 - excellent turnout for a small centre.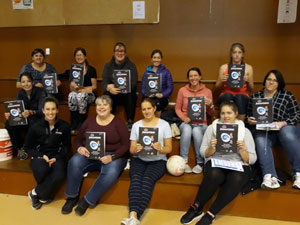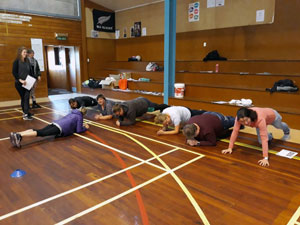 Coaches and players were invited to learn about the Netball Smart warmup both from game day to tournament type situations and the Warm Up included strengthening, running, dynamic preparation and Netball specific preparation - there are 2 variations one warm up for training and another for game day as well as a power warm up for tournaments.
There are three levels within Part A and Part C of the warm-up with each athlete only doing one level. An athlete/team should work at the level they can achieve, with a view to progressing through to Level 3 as they improve in strength, movement, competency and physical capability. Hence, the warm-up has a progressive nature to it Our players and coaches gave everything a go and enjoyed the session, resources supplied and we look forward to an injury free season.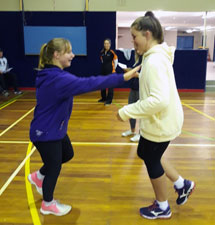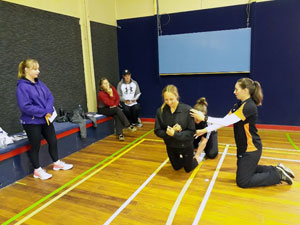 PLAYER DEVELOPMENT PROGRAMME
Our centre ran a Holiday programme in April 2018 with assistance from Tamika Green and 3 interns from Netball Mainland - Jenne, Tenieke, and Nicole who are currently students at the University of Canterbury studying a Bachelors Degree of Sports Coaching. Just over 30 girls participated learning foundation skills plus attack, defence skills putting these into practice and then outside in a game situation. The players thoroughly enjoyed the session and have been asking when is the next one. The session finished with spot prizes donated by Netball Mainland and Silvermoon Tactix posters and a free sausage sizzle kindly donated by Hellers.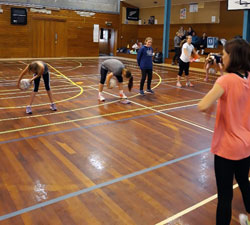 A huge thank you to everyone who came and helped with our Junior Fun Day, it was a great success, and a great way to start the Netball season. It was very exciting to have Jess Moulds and Kate Beveridge from the Silvermoon Tactix there, they were amazing with the kids.
A special thanks to Old Girls Black, Stumpers, Lyndale, South Westland and Westland High School Clubs who came and set up such fun stations and activities for the kids, they all really went above and beyond, putting a lot of effort and thought into making it a great day for everyone. Each club produced awesome drills and activities and even special prizes and treats as giveaways. Their efforts exceeded our expectations, and was very appreciated by the Hokitika Netball Centre Executive.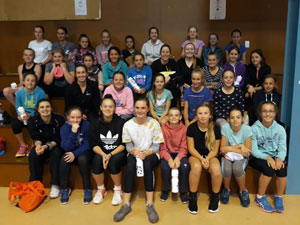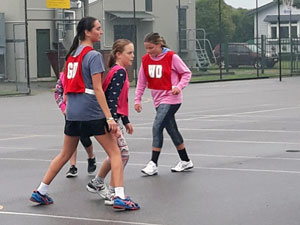 Lyndale Strength Club was awarded the prize for the best club representation, due to their awesome drills and their energy and enthusiasm with the kids. They received $100 off their registration fees for all their efforts.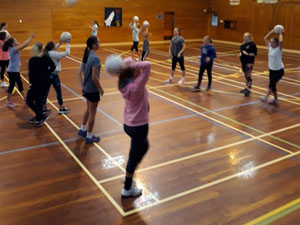 We were lucky with the weather, it was a beautiful day. About 80 children showed up with their families, which was a good turn-out. The kids definitely seemed to enjoy all the fun drills and activities – lots of energy and happy faces. It was great having St Mary's Sausage Sizzle, the South Westland Baking Stall and the Coffee Cart there to feed everyone and help with their fundraising.
We finished with a Walking Netball demonstration game, pulling up parents and senior players including the Tactix. It was pretty funny and took a bit of getting used to, but unfortunately a few people injured themselves, one being very serious. This was a real shame and put a damper on the end of the day. Hopefully it won't deter people from giving it a go in the future.
All round it was a great idea and definitely a great way to start the 2018 Westland Netball season!