West Coast Netball Centre
Welcome to our 2018 Season
We have an amazing Executive team this year: Kaye, Marion, Jocelyn, Charlotte, Jill, Anne, Cindy, Caroline, Rebecca, Brooke, Lisa and Courtney. Everyone is working together to make sure that we have an awesome competition for everyone. We are also endeavouring to do our best to make sure everything runs smoothly and everyone is happy.
Grades
The West Coast Netball grading committee lead my Marion Smith had a hard job sorting our West Coast grades, but did a great job.
The final grades are:
Senior grade: 6 teams
1st grade: 6 teams
2nd grade: 4 teams
3rd grade: 4 teams
Our Inter Centre grades have also been finalised with a slightly different structure than past years.
We have 3 sections:
Premier A: 6 teams – comprising of 3 teams each from West Coast and Hokitika
Premier B (1st section): 6 teams – comprising of 4 teams from West Coast and 2 from Hokitika
Premier B (2nd section): 6 teams – comprising of 5 teams from West Coast and 1 from Hokitika
All of the Premier games are played indoors using a home and away system with the Westland Recreation Centre (Greymouth) and the Westland High School Gym (Hokitika) being used.
Last year we welcomed three teams from Reefton into our competition which is working very well.
This year we hope to run a Jellybean tournament – date is yet to be decided. West Coast, Buller and Hokitika continue to hold the Kawitiri Cup and Buller Westland field day. All centres would be happy to have other centres join us.
Unfortunately, we have had a down turn in numbers. Some of this is due to business closures, population downturn, and the increase in Netball Mainland fees. Either way, it is disappointing to see the drop in numbers.
Umpires
We have a smaller umpiring team this year with 21 named umpires. This number is made up by a range of experienced umpires, past coaches/players who have found the whistle and a young up and coming group.
We will all be looking sharp this season in our new umpire shirts (thanks to the Recreation Hotel) and hopefully soon we will have matching skirts.
Our first senior group meeting had a great turn out, with a number of ideas and plans for the upcoming season.
We are looking forward to a visit from Annie Marie Leech on the 26th May, where we will fit in a class room session before we hit the court for some coaching.
FutureFERNS
We were fortunate to have Silvermon Tactix's Jess Maclennan and Kate Beveridge visit our Centre on Sunday, March 18 and conduct a training session with our secondary school players and also run a taster session for our Mother Earth FutureFERNS Year 1 – 4 junior netball programme. The taster session in particular was very well attended and we had a lot of excited players posing for photos with these two popular Silvermoon Tactix players.
A very successful School Holiday Netball Development Programme for our year 5 – 8 players was held on Monday, April 16 at the Westland Recreation Centre. This is the first time our Centre has run a school holiday programme and it was very well supported with over 60 players attending. The session was run by three very competent and knowledgeable Netball Mainland interns Jenne, Tenieke and Nicole along with support from Tamika Green and consisted of the NetballSMART warm up, attacking, defence and shooting skills. At the conclusion of the session numerous spot prizes kindly donated by Netball Mainland and Tactix posters were given out along with a free sausage sizzle courtesy of Hellers.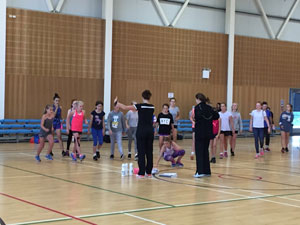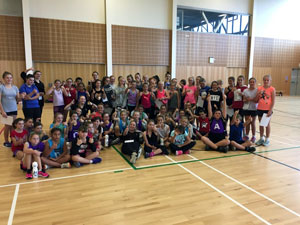 Our Mother Earth FutureFERNS Year 1 – 4 junior netball programme got underway on Friday, May 4 with a registration and taster session and although our numbers are slightly down on previous years the enthusiasm to play netball is clearly evident.
Website
Brooke has been busy updating our website: http://www.sporty.co.nz/westcoastnetball
You can find draws, results, announcements, club contacts, season calendar and forms.